Very little change to the Canadian housing market expected for the rest of the year and into 2016
The Canadian Real Estate Association (CREA) predicts very little change to occur for the rest of 2015 in the country's housing market.
The drop in oil prices experienced earlier this year has had an undeniable impact to the oil producing regions of Canada, most specifically in the province in Alberta. However, the "hot" resale housing markets in the provinces of British Columbia and Ontario have offset any declines to housing market activities nationally; thus ensuring the Canadian housing market remains on a steady growth track for the remainder of the year.
Overall, the sales in Canada are expected to reach 487,200 units by the end of this year, an increase of 1.3 per cent from the previous year.
So what is the forecast for the rest of the year? Here are the sales activity projected for each province for 2015:

2015 … Some predictions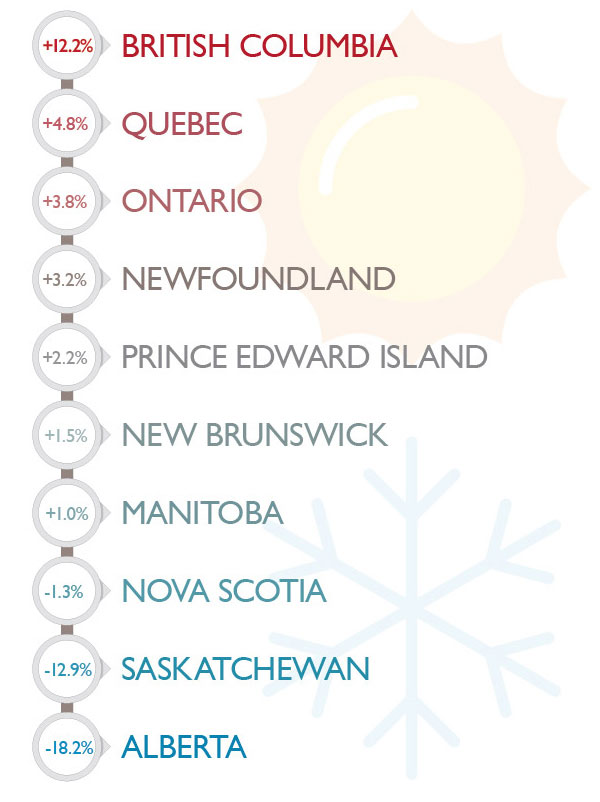 Further, the CREA projects the national average home price for 2015 to be $429,400, an increase of 5.2 per cent from the previous year. As in line with home sales trends, this figure varies province to province, with British Columbia leading the provinces with an average home price of $616,000 (an increase of 8.5%) and followed by Ontario with an average price of $465,200 (an increase of 5.6%). The province experiencing the most notable decline in home prices is not surprisingly, Alberta. Alberta's home prices are expected to decline 2.8% in 2015.
Thus far 2015's resale housing market has been shaped by uncertainty in Canada's oil producing region, thriving housing markets in BC and Ontario, and relatively stable activity in the rest of the country. As a result, Canada's overall market activity may reflect steady growth but the whole story reflects regional variations, a trend which is predicted to carry over into 2016.
With uncertainty still looming in Alberta and the rest of the Prairie region with respect the long-standing impact of lower oil prices, there is a decline in consumer confidence, which according to the CREA is "sidelining potential homebuyers" in that region.  Whereas British Columbia is experiencing perhaps the most robust resale housing market in Canada; however, with eroding affordability, the province is expected to experience some cooling next year as CREA predicts sales to decline about 3% in 2016 in BC.
Overall, 2016 is expected to be yet another year of stable and steady growth nationwide with other provinces catching up due to a positive national economic outlook. CREA predicts the national average sales activity for 2016 to be 491,200 units, a very moderate increase of 0.8%, and national average home price to be $436,700, a slightly higher increase of 1.7%.
Source: CREA